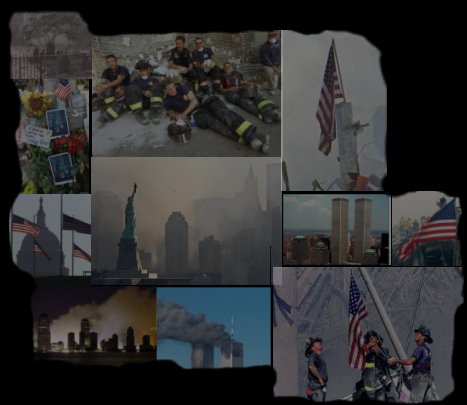 September 11, 2001, is a day Americans and the World will never forget. I've made this page as a tribute to the victims of the Terrorist Attack on the United States.



Please don't steal my background. It was made from the now famous photograph taken by Thomas Franklin of The Record of North Jersey. It features FDNY's Dan McWilliams and George Johnson from Brooklyn's Ladder Company No. 157, along with Billy Eisengrein from Staten Island's Rescue Company No. 2. This is a copyrighted image co-owned by The Record and the three firemen which I've posted here as a tribute to them and the victims of the terrorist attacks on America.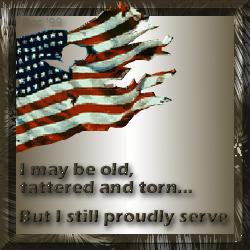 To the families, friends and co-workers of the victims, I express my heartfelt condolences on your losses. Even though, I personally did not lose anyone in these devestating attacks, as a wife, mother, and proud American, I have shed many tears over this terrible tragedy.
To the brave rescuers and volunteers, I wish to thank you for not just "doing your jobs" but for being true heros.

War in the Making
Bombing started today,
As buildings collapsed
Many ran away.
Aiming and hitting us where it hurt
Nothing left to look at but dirt.
Thousands of lives to take,
Why wont this stop?
For heavenís sake!
Now all others laugh and faces full of smiles
While us free Americanís run for miles.
Tears run down faces,
As many run out of placesÖ
Places to go,
Places to sleep
Families of those we lost, just weep!
Those who think they are faking,
This is war in the making!
As the bomber is found,
Us free Americanís will stand our ground!!!
Dedicated to those who died, those suffering and all of us who sit and wait for war to come. LOVE AND GOD BLESS YOU ALL!
Written on September 11th, 2001
Christina M Daugherty

This poem was written by a very talented young lady who gave me permission to display it here for your enjoyment.

Please observe A Moment of Silence in Honor of the Victims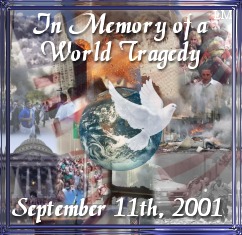 If you'd like to display a banner on your site or sign a guestbook in rememberance of the victims of the 09/11/2001 terrorist attack, please visit http://www.ladymadona.com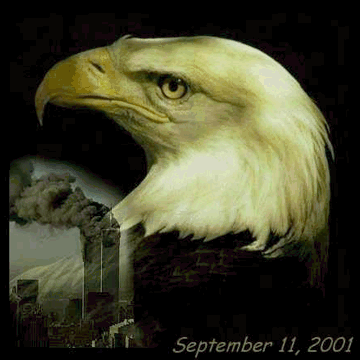 This picture is © 2001 D.E. WALDRON AND GUY PARNEIX.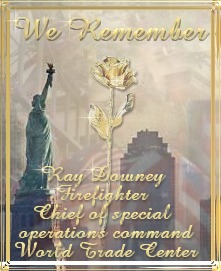 I've chosen to honor one of the firemen who was killed in the aftermath of the terrorist attacks with this plaque. Ray Downey was a chief of Special Operations Command. If you'd like to honor one of the victims, also, you can click on Mr. Downey's plaque. Thanks to Lady Madona for creating these memorial plaques.

~ An American Tragedy ~
Tuesday morning, 8.40am
in the city of New York
As commuters began arriving
for another day at work ~
The dawning of a new day
as traffic moved around
And people shuffled in the streets
amongst the city's sounds.
Oblivious to anything else
the city began its day
While another plan of action
was also underway ~
A plan so horrific
so sure to leave its mark
Beginning in Washington,
Boston and Newark.

It was 8.45am
when a loud exploding sound
Was heard throughout Manhattan
and the city's surrounds ~
A plane en-route to LA
that had been hijacked
Crashed into the World Trading Centre
in this horrific attack.

Some eighteen minutes later
as people could only stare
Another plane flew straight into
the second tower there ~
While cameramen recorded
this second incident
The building burst into flames ~
such sadistic intent.

People jumped out of the buildings
from about a hundred floors
In such a panic, afraid to die,
cannot take anymore ~
Millions watched from the ground
at the horrific sight
As bodies hurled toward the ground
in panic-stricken flight.

Then all of a sudden came a rumbling
as smoke filled the air
Billowing from the crumbling tower
and clouding everywhere ~
Filling the streets as people panicked
with debris falling all around
The first tower in the attack
came crumbling to the ground.

People screamed as they watched
the tower disappear
And running from the falling debris
in panic-stricken fear ~
Trying to escape this tragedy
they cannot believe their eyes
Knowing that there were thousands
who had surely died.

Meanwhile in Pennsylvania
many saw the news
The horror that New York had seen
not one attack, but two ~
Silence, they could not believe
all that was going on
When suddenly there was another attack ~
this time, the Pentagon.

And as Pennsylvanians
sat in their living rooms
Watching this tragic disaster
with a heartfelt sense of doom ~
They felt a rumbling shudder
like an exploding sound,
Then hearing that yet another plane
had fallen to the ground.

In New York there were aftershocks
of the damage that was done
When the second tower to be attacked
crumbled in the morning sun ~
A third building of the Centre
later collapsed as well,
The number of how many lives
were lost, no one could tell.

In just two and a half hours
the horrific tragedy
That rocked the nation and the world
could start World War three ~
But as sadness now sweeps the world
over such tragic incidents
The disbelief of all who think
these attacks just make no sense.

So in final tribute
may God bless everyone
May He be with those who were victims
may He shine on them with love ~
And may He take care forever
of all the ones who died
We pray they didn't suffer,
for their tears we all cried.

© Christina Smith
12th September, 2001

The author of this moving poem graciously permitted me to display it here for your enjoyment. You may visit Christina's site Poetry From The Heart, By Christina to read more of her beautiful poetry.


This is also a site very worth visiting. David Decker is a Chaplain in the Marine Corp. He gave me permission to display the flag flying at half mast above which was created for him. Please visit his pages - you'll find them very touching.
If You'd like to help or if you need help finding information about a missing loved one, visit my: How You Can Help Page.